My life is different now.  The moment I knew I will be having a child, everything started to go differently.  Future plans have been modified and priorities have increased.  I cannot go out with friends only that easy because I have to attend to my baby's needs first.  I also became very  busy.  Most of my time are spent at home with baby because I am a full-time wife and mother.  Planning our daily activities gets tight.  My to-do list has additional now.  My life has changed.
I also have an online life.  I am a blogger and I allot time for my online tasks.  With my busy schedule online and offline, I needed help with organizing my activities.  I appreciate the idea of clipix, an online tool where you can create a what we call Clipboard that serves as Reminder notebook.  When using clipix, organizing your life's activities to be able to balance you time can be fun. I have to say that the first thing in my Clipboard is shopping.  Giving gifts to family and friends has been a fond doing to me.  So I have favorite stores that I have to check always for good deals. 
Not many people can maintain their routine.  Something is always forgotten.  But with proper task organization, everything is under control.  Here is a sample of my board in clipix.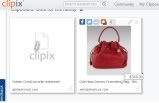 What do you think?  You can also try using the tool by signing up for free.  Let me know how you did and let's see what your clips are.  For more details, see
.
Promoted Post